T he story created by J. M. Barrie in 1904 about a child who did not want to grow up, is part of the paradigm of those tales that connect with the deepest desires of childhood. Numerous adaptations of the Peter Pan fable have been written, but all of them say that if you travel to Neverland and spend a long time, it will be challenging to return to your old life and remember your past.
Summer has arrived at The Bay, and with it, the people who have yearned for freedom so much in recent weeks have decided to return to their habits and enjoy the fresh and pure air of the Emerald Hills. But these Saturday afternoons have little in common with those of just a couple of months ago. The 101, which crosses California from north to south, is completely deserted, as is the sky around the airport. Passenger traffic has fallen more than 80% from last year. Last Friday, only 15,000 people went through SFO compared to 79,000 just a year ago. Leaving home requires at least concentration not to forget any of the hygiene and prevention recommendations shared by the health authorities, not to mention the many measures that both government and the private sector have put in place to try to reduce the number of Coronavirus cases.
Much has been said on the impact that Covid-19 will have on the economy and society. It will not be me who attempts to predict what the future holds for us, much less after writing in December that '2020 did not sound so futuristic like five years ago and that the most futuristic thing we could hope for was the Cybertruck', but I would like to reflect on three of the most significant changes that will undoubtedly shape this new decade and mark a change of era.
SLOWDOWN OF GLOBALIZATION
The flow of people, commerce and capital, will slow down.
Travel restrictions, quarantines, and the widespread desire to stay home, even among those not ordered to, have meant that the flows of people from one place to another, the only aspect of globalization that had continued to strengthen in recent years, has stopped.
This crisis has also accelerated the need for countries to diversify their network of suppliers and production chains. Almost three-quarters of anticoagulants imported from Italy come from China, as well as 60% of the raw materials used in the production of antibiotics imported by Japan. Such dependence on any country seems reckless, and many of them have begun evaluating how to change the current status quo.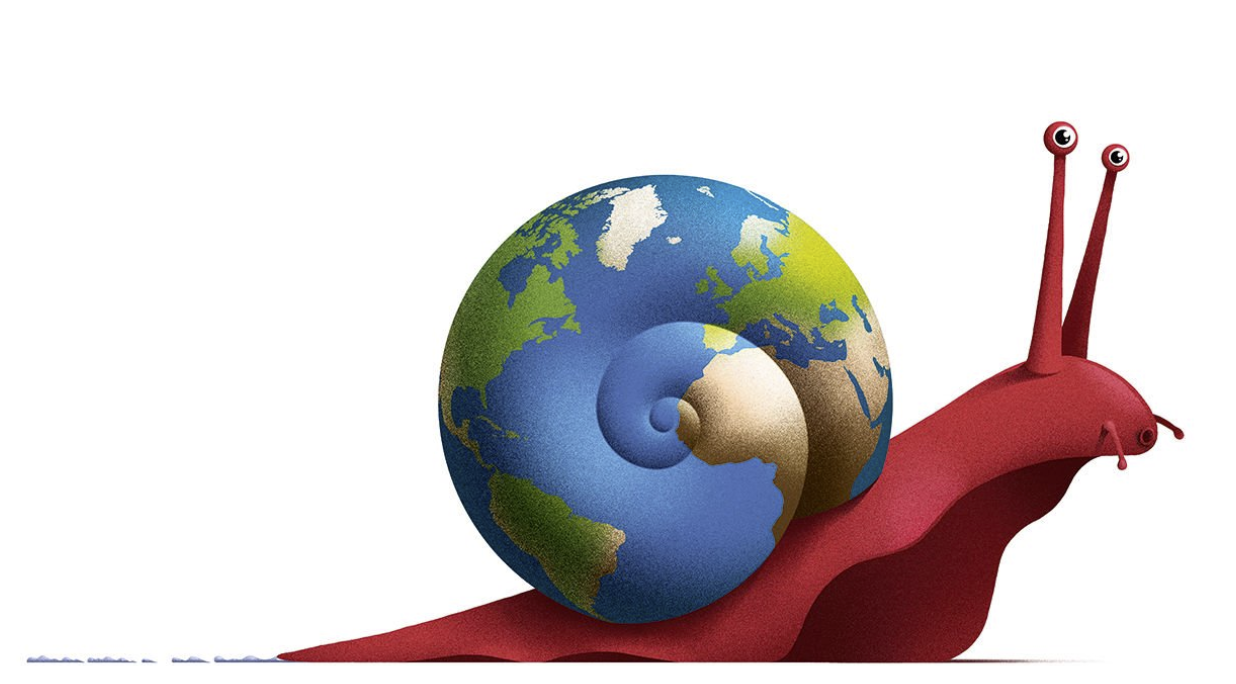 This week's issue of The Economist has even come to question whether Covid-19 will kill globalization. There is no doubt that the pandemic has exposed some of the model's fundamental problems and has caused both countries and supranational organizations to think what their new roadmap could look like. However, this crisis will not end economic globalization. It will slow it down in the short/medium term and will most likely cause a change in the weight that industries have in the long run. For example, Mexican car exports fell 90% in April; and 21% of transoceanic container shipments in May have been canceled. However, some digital entertainment and connectivity services have seen double-digit growth rates in both traffic and the number of new users in recent months.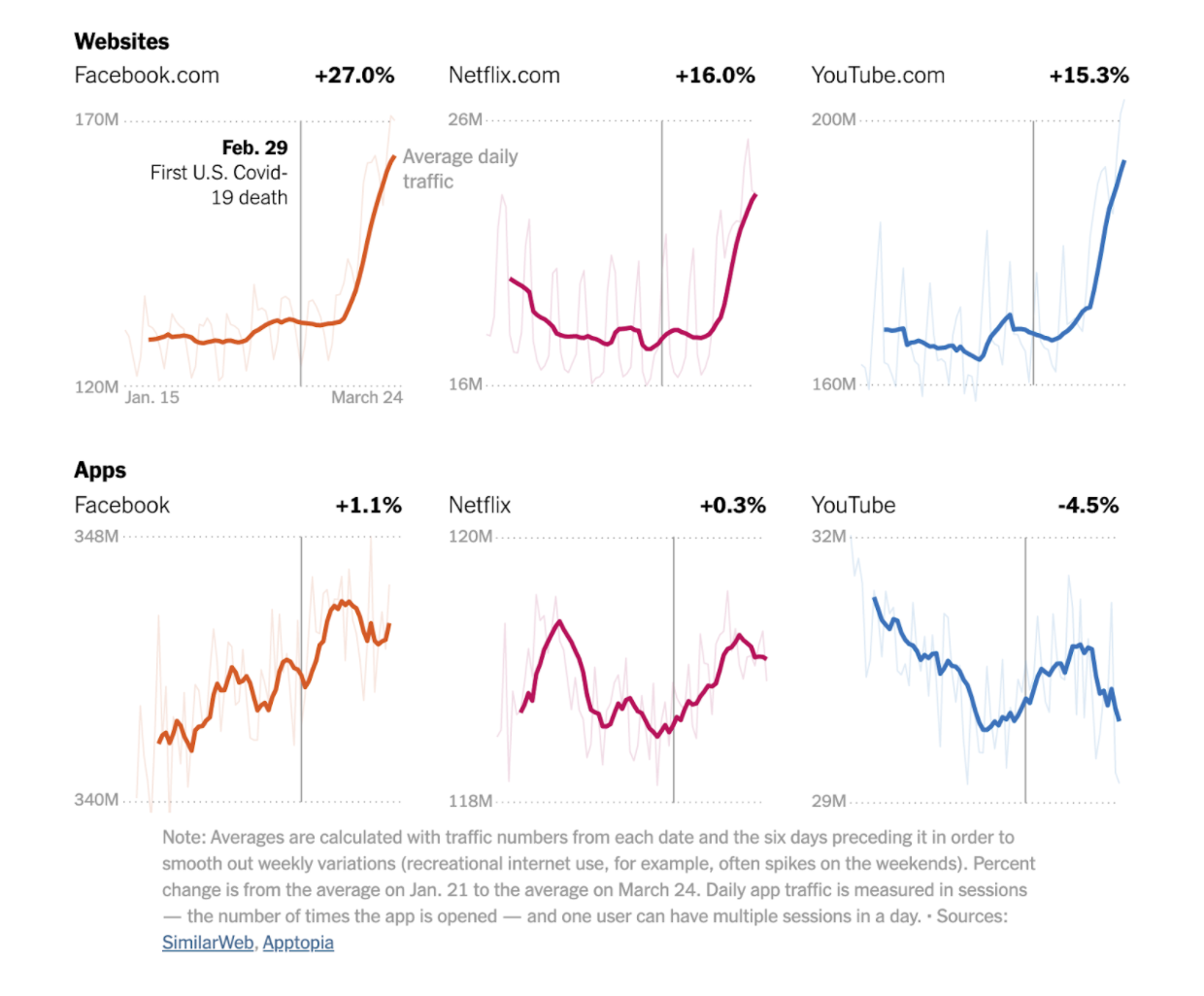 Digital commerce still operates on a modest scale, but it will continue to prosper and become more important in the global economy in the coming years. And who knows, maybe it will lay the foundations for a new economic model.
DEEP CHANGES IN CONSUMER BEHAVIOR
What, when and how we buy has changed.
As countries in different latitudes begin to 'reopen their economies,' consumers continue to feel the financial impact of the crisis. According to a recent Mckinsey research, overall spending intent has decreased by two-thirds in the 41 countries surveyed.
To avoid contact with other people, consumers continue to spend much time at home activities and have adopted digital solutions such as video conferencing, telemedicine, or online shopping. Heading into the "new normal," about 40 to 60 percent of surveyed consumers who adopted these new products and services intend to continue.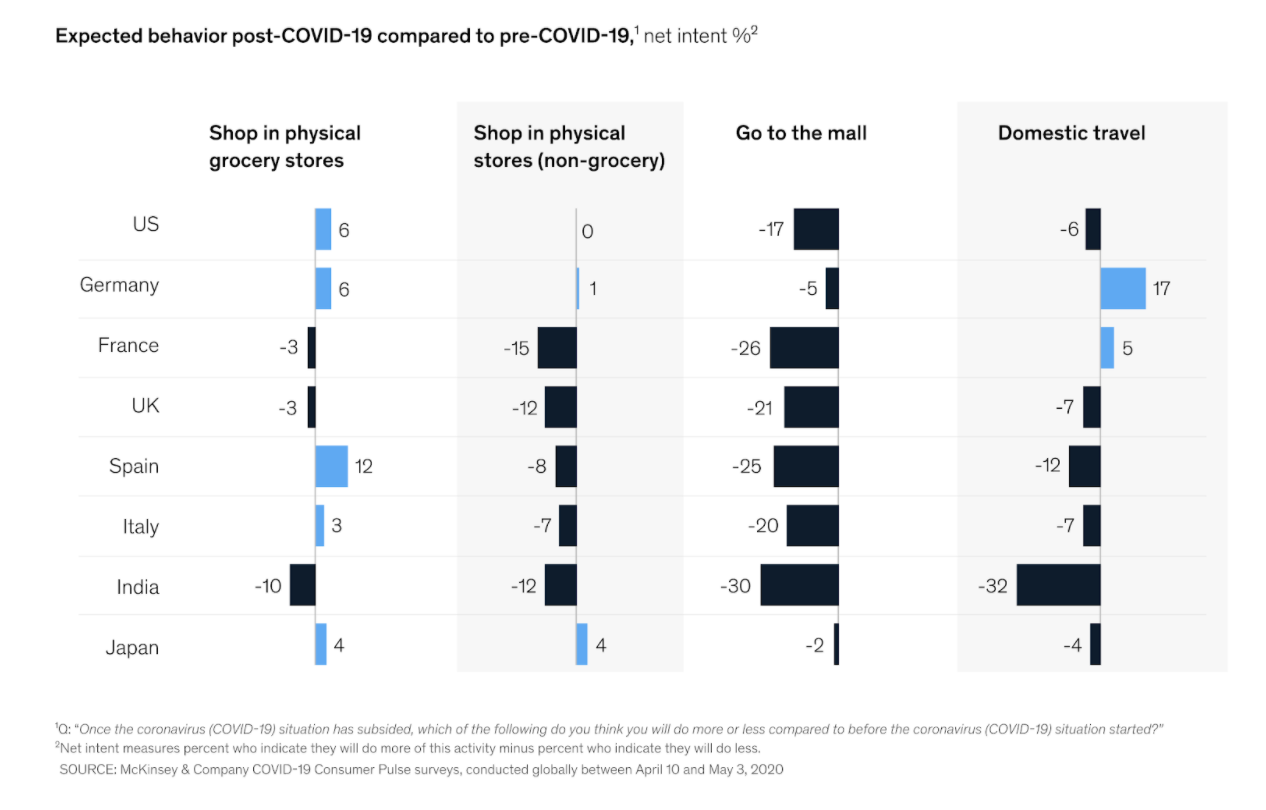 While Covid-19 has dramatically decreased traffic in brick-and-mortar stores, some retailers have experienced raises in their online channels, as consumers have begun to take extreme caution with the increase in the number of cases in their communities.
As consumers increasingly use digital methods to prepare for a potential emergency, retailers must ensure smooth, frictionless, and fast experiences on their e-commerce websites and mobile apps.
Meeting the needs and emerging consumer expectations during turbulent times, it is imperative for the companies success. In fact, this crisis has been an accelerator for the digital transformation of many businesses that had not yet made the leap to the online world.
THE GEOGRAPHIC DEMOCRATIZATION OF HUMAN CAPITAL
Unemployment and working from anywhere
Unemployment
The latest figures from the United States Department of Labor indicate that more than 36 million people have applied for unemployment benefits in the last two months. The application rate is slowing, but the record pace of layoffs has already brought unemployment to levels never seen since the Great Depression of the 1930s. As a benchmark, only 188,264 unemployment applications were made in the same week in 2019.
The situation on the other side of the ocean is not more promising. In a recent report, Mckinsey warns that the pandemic threatens to take away 59 million jobs across Europe, as well as reduced wages and working hours.
But even though the overall numbers are negative, and concerning, there are areas of opportunity, and hope, and industries that continue to create new jobs. One of the most plausible cases has taken place in Germany, where McDonald's and ALDI have initiated a personnel exchange plan in which McDonald's workers from temporarily closed restaurants started to work in ALDI stores to meet the growing grocery shopping demand.
Working from anywhere
Over the last five years, I took an average of sixty flights a year, of which 90% were for business reasons. I have always been a fervent believer of the importance of human connection and relationships when making business decisions, being on the battlefield, feeling and listening to what users need on the front line, understanding how to design strategies that help our partners to grow their business and develop products that make our users' lives a little easier.
Two months ago, I had to fully rethink my way of working, like millions of people around the world. I had to adapt to the new circumstances and assimilate that I would have to rely exclusively on the information received digitally instead of combining it with my first-hand learnings and observations. As the days went by, I began to see the positive side of this new routine. I have spoken to more people than I would if none of this had happened, and all from the comfort of my house. I spoke with clients in Asia, engineers in Europe, and partners in the US. Working from home allows you to optimize your time, reduce waiting times at the airport, flights, and commute to work.
However, in the technology industry, collaboration is fundamental to oil the wheels of innovation, and although videoconferencing platforms do a pretty good job maintaining and fostering communication, they will never replace a good whiteboarding session with your team or the great ideas born during informal hallway conversations.
These past two months have been the largest telework experiment ever conducted in history. Companies have had the opportunity to collect data on the productivity of their teams and to evaluate whether this or a hybrid model can work in the long term. Twitter has been possibly the most vocal when it comes to expressing their opinions by communicating to their employees that they can work from home forever.
Removing the need to work on-site from 9 a.m. to 5 a.m., five days a week, could bring benefits both individually and collectively. Imagine in a region like the San Francisco Bay Area, with lots of tech jobs but limited and expensive housing, the average commuting time is 32 minutes. If a person works from home one day a week, it is one hour a week that he or she does not spend driving to work. If most companies adopt these practices, there would be a large reduction of vehicles on the road during rush hours, a decrease in traffic congestion, and shorter driving times for everyone. Also, it would allow high-income employees to live in places with lower housing costs (rent, mortgages), which could mean more money to spend on other activities such as leisure, travel, or dining-out, and thus boost families consumption. However, this is a simplification of a much more complex reality. Neither the nature of all industries allows work remotely, nor saving on housing costs may have a direct impact on increased spending in other activities.
But if companies decide to abolish on-site work and let their employees work from anywhere, could this allow them to expand their talent pool and geographically democratize human capital?
Covid-19 has completely impacted our economy and society, consumer behavior, accelerated the digital transformation of many industries, and called into question our current economic model.
Let's not long for our old life, nor remember our past excessively, and learn to live within the new rules of the game. Only those who understand them and adapt will be able to get the most out of what the experts have called "the new normal." For the most daring, I leave you a guide that seeks to make sense of a problem that is too big for a person to fully understand; for the others, welcome to Neverland!
The opinions expressed in this article are those of the author and do not necessarily reflect the official policy or position of any other agency, organization, or company. Disclaimer.