S i Bill Campbell hubiese tenido la oportunidad de vivir y presenciar la incertidumbre que estamos atravesando como sociedad, probablemente tendría un mensaje para todos nosotros: "es la gente".
Las personas son la base del éxito de cualquier empresa. Los grandes trabajadores prosperan en entornos que permiten y amplifican la buena energía y crean oportunidades de crecimiento para ellos como individuos. Sin lugar a dudas, podría decirse que nos encontramos ante a uno de los momentos más desafiantes de nuestras carreras, y eso requiere que demos lo mejor de nosotros mismos en el trabajo, aunque eso podría significar ir de la cama a la sala de estar.
Cualquier persona que haya leído Trillion Dollar Coach llegará a una conclusión similar: un buen coach puede desempeñar un papel fundamental en el éxito de una empresa, sobretodo en crisis del calibre de la que nos encontramos, y Bill Campbell era un gran tipo.
Bill Campbell ayudó a construir algunas de las empresas de mayor prestigio y renombre de Silicon Valley – incluyendo Google, Apple e Intuit – y crear un valor de mercado de más de un billon de dólares.
Bill Campbell ayudó a construir algunas de las compañías más importantes de Silicon Valley, incluyendo Google, Apple e Intuit, y a crear más de un billón de dólares en valor de mercado. Bill fue mentor de visionarios como Steve Jobs, Larry Page y Eric Schmidt, y cuando falleció en 2016 dejó un legado de empresas en crecimiento y personas exitosas, y una gran cantidad de amistad, respeto y amor.
Para honrar a su mentor e inspirar y enseñar a las generaciones futuras, Eric Schmidt, Alan Eagle y Jonathan Rosenberg han codificado la sabiduría de Bill en Trillion Dollar Coach. Un libro que explica sus principios y los ilustra con historias de las personas con las que trabajó y entrenó. Sí, entrenó. Bill fue entrenador de los Columbia Lions antes de su estelar carrera como ejecutivo.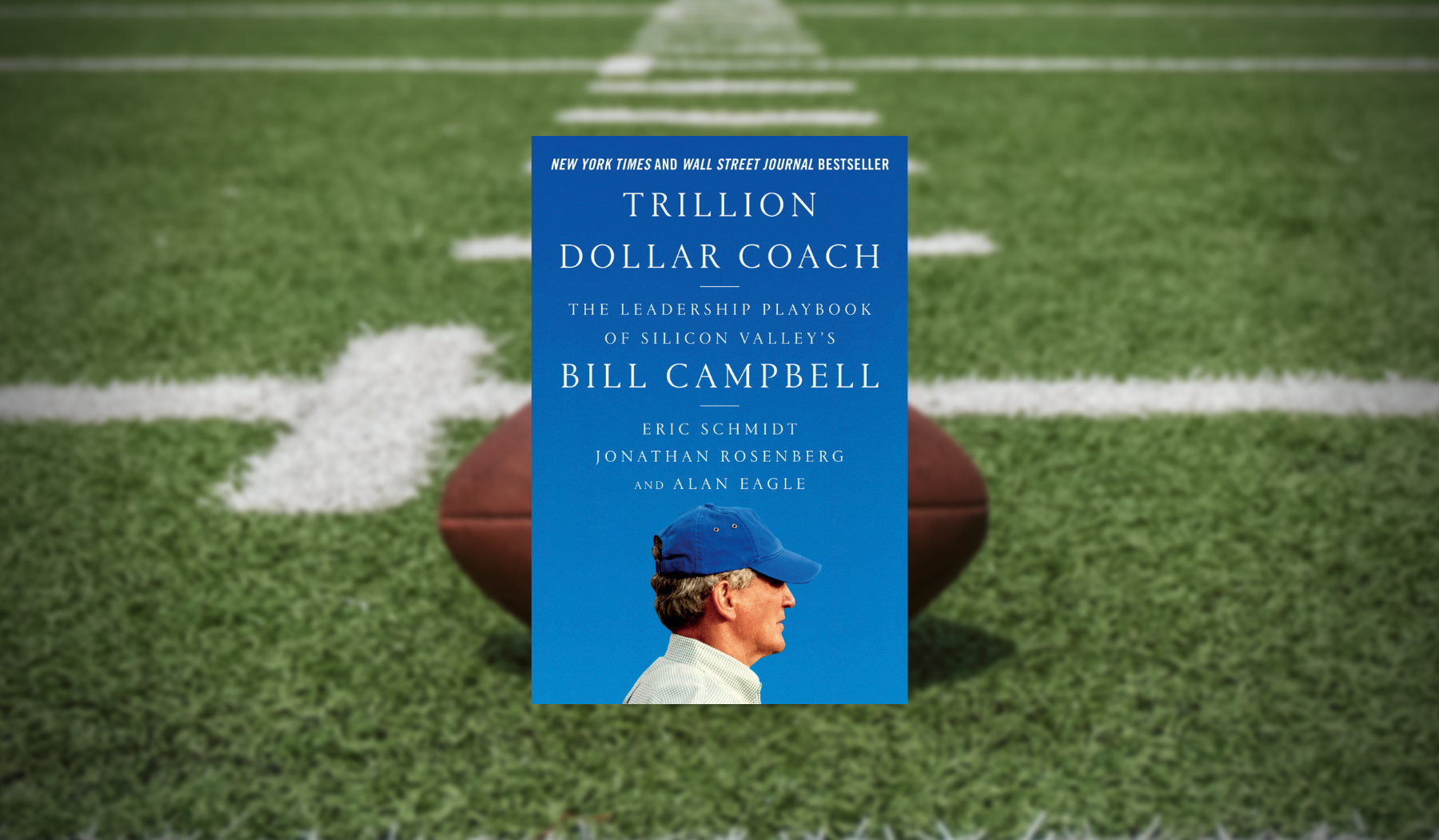 The Highlights
Trillion Dollar Coach está lleno de 'joyas': historias, consejos y técnicas de coaching que pueden aplicarse más allá del ámbito empresarial. Yo me quedo con estas tres:
No he tenido la oportunidad de conocer a Bill Campbell, pero después de leer Trillion Dollar Coach, pienso que seguiré el consejo de Susan Wojcicki (CEO de Youtube): 'Cuando tengo que tomar una decisión difícil, pienso en Bill. ¿Qué haría él?'
¿Hoy? Pensar en el bienestar de su gente. Mantente activo y saludable.
The Highlights es un blog personal. Cualquier punto de vista u opinión representado en este artículo es personal y pertenece únicamente al autor de la publicación y no representa a las personas, instituciones u organizaciones con las que el autor puede estar asociado en su capacidad profesional o personal, a menos que se indique explícitamente.